NTM910DUAL
SONY FM900MHz BabyCall NTM-910DUAL baby Monitor with Receivers & transmitter,The sound of the baby moving in the nursery, kindergarten or home is transmitted through an transmitter, and the guardian receives the sound of the baby moving with dual receiver
Sony's
NTM-910
FM 900MHz BabyCall; Nursery Monitor was designed to offer the clearest connection to your baby. Features include 900 MHz Technology which extends the range of the BabyCall Monitor further than conventional (43-49MHz) monitors, 27 Channels to greatly minimize interference for even clearer communication, a Water Resistant Receiver, a Built-in Rechargeable Battery Receiver which provides savings and convenience over replaceable batteries, and Voice Activation Mode which eliminates extraneous background noise. 5 Sound-Sensor™ Activity Lights, an Out of Range Indicator, a Belt Clip, and AC/DC Operation are also featured. Tune in to your babys needs with the NTM-910DUAL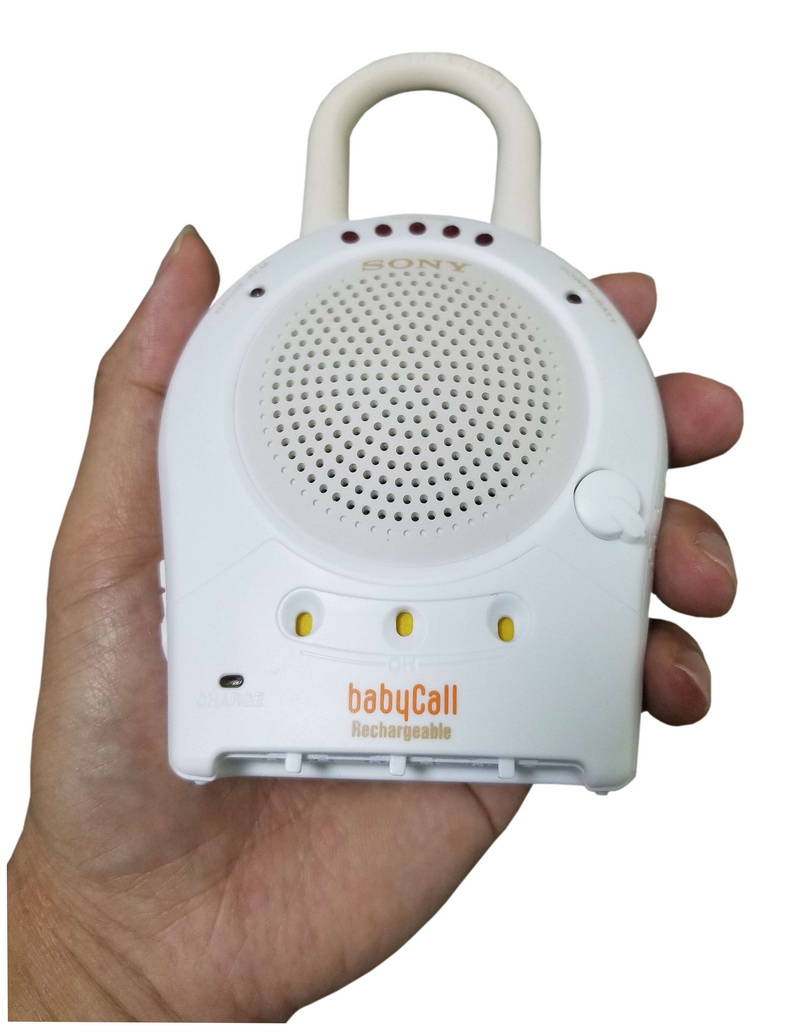 From the Manufacturer
900 MHz Technology extends the range of BabyCall Monitor to let you take the receiver farther from the nursery, yet still hear activities in the nursery. It comes with 27 channels to greatly minimize interference and uses FM transmission system with channel selector to locate the clearest channel, helping to eliminate interference for clearer communication.
5 pieces built-in sound sensors are placed near the active indoor space. When the baby makes a sound, the receiver will receive the baby's sound. Laugh or cry, all under control.
Are you looking for a baby monitor that suits your budget without sacrificing clarity of sound? The Sony Baby Call Monitor can fit into that mold, but there are some downsides that you must be aware of before making a purchase. The price is just right if you don't want to shell out a lot of money on this purchase, but just like most monitors under the $40 price point, interference is a bit of a problem for some parents.
Sony Baby Call Features Technical Details
Receiving

distance

The straight line receiving distance without obstacles is 350ft (107m). The more obstacles there are, the more shielding signals there are, the shorter the receiving distance will be

,

Users are advised to place the transmitter on the platform in the window of the baby's room to reduce obstacles and increase the receiving distance when the receiver is taken out of the house.

If the receiver is at home, the transmitter can be placed anywhere in the baby's room

.
:
Item Weight

NTM910 1.8pounds

Product Dimensions

1.9 x 4.2 x 4.2 inches

Item model number

NTM-910

Target gender

Unisex

Additional product features

Wireless, FM transmission

Number of items

1

Power source type

Rechargeable battery and adapter

Batteries required

No Disposable battery

Alert type

Out 350ft /107M of range and low power

(

Sensors on the receiver can sense beyond the range of the received signal, and can sense a power failure or shutdown of the transmitter, as well as an audible and visual warning when the receiver's own battery is low

)

Number of channels

27channels
Power adapter volts: 120v 60hz(
default
)
According to your country's voltage requirements, choose the voltage suitable for your country, you can provide free voltage adapter applicable to your country. The default voltage of this product is 120v.The 120v voltage adapter can be used in countries between 100 ~ 130v, and the 220v adapter can be used in countries between 200 ~ 240v.After the buyer buys remarks your country voltage, thanks!
The BabyCall's adapter voltage 120v, The adapter pins one large 8mm
(
3 1/8"
)
and one small 6.3mm
(
2.5"
)
countries for use in the adapter: The United States, Mexico, Canada, Brazil, Japan, The Philippines, Micronesia, panama, Colombia, Barbados, The Bahamas, Bermuda, Puerto Rico, Ecuador, Costarica, Guam, Haiti, Jamaica, Belize, Honduras, The Cayman islands, Laos, Lebanon, Montserrat, Taiwan of China;
Is a Cheap Monitor Worth Your Time?
It is true that lower cost monitors can have more glitches and downsides than more expensive monitors. You get what you pay for, but that does not necessarily mean that you should avoid lower cost devices at all costs. It just means you should read reviews and shop with a bit more caution.
The biggest concern for

baby monitors
in the lower price range is poor clarity of sound, inferior range and excessive interference. In most cases, these flaws are all connected together. If you use the monitor at a longer range, the sound clarity goes down and interference goes up. This is a problem if your bedroom is not immediately next door to your

baby's nursery

.
Are you ready for the good news? The Sony Baby Call Monitor actually receives great scores in all of these categories. If you are dreaming of a cheap baby monitor that can handle a longer range without bursting your eardrum with static and interference, this could be your best option.
Sony Baby Call Monitor Advantages.
Range and clarity are definitely strong points for the Sony Baby Call. The range is about average for the overall market, but that comes with exceptional clarity that is hard to find within this low price range. Tests proved that this baby monitor stays clear and reliable even when you push the range to the max.
Another advantage to this monitor is the voice activation feature. This is located on the on/off switch and allows parents to tune out the hiss of background noise with the comfort of knowing they will still hear substantial or important noises coming from the baby's room. The "on" setting is still there if you want to hear everything that is going on in the room, but the sound activation feature allows you to get more rest while the background noise is tuned out and noise comes through when it is important.
You can get a more enhanced sound activation feature on more expensive baby monitors which allow you to control the monitor's sensitivity to sound. You cannot expect that at this low price range, but this feature is still a major plus for a low cost monitor.
Another advantage to this monitor is the impressive sound enhancement. The sound is intensified so parents never miss an important cry or word. This feature was far better in the Sony Baby Call than all other low-cost monitors tested. If there is a lot of background noise in your home, this is a feature you must keep in mind while comparison shopping.
You can also select a model of 1 receiver and 1 transmitter (
NTM910
, we also have), which is cheaper, The link:
https://gunghayfotchoy.store/ntm910-p0026.html
Most website purchases are very expensive, only our website is the cheapest in the world.
World voltage and frequency
1, Argentina 220v 50hz;
2, Australia 240v 50hz;
3 ,Austria 230v 50hz;
4, Bahamas 120v 60hz;
5, Belgium 230v 50hz
6, Bolivia 110/220v 50hz
7, Brazil 110/220v 60hz;
8, Canada 120v 60hz;
9, Chile 220v 50hz;
10, China 220v 50hz;
11, Colombia 110/220v 60hz;
12, Costa Rica 120v 60hz;
13, Cyprus 240v 50hz;
14, Denmark 230v 50hz;
15, Dominica 230v 50hz;
16, Ecuador 110v 60hz;
17, Egypt 220v 50hz;
18, Finland 230v 50hz;
19, France 230v 50hz;
20, Germany 230v 50hz;
21, Greece 230v 50hz;
22, Guatemala 120v 60hz;
23, Haiti 110v 60hz;
24, Honduras 110v 60hz;
25, Hong Kong 220v 50hz;
26, Hungary 220v 50hz;
27, Iceland 230v 50hz;
28, India 230v 50hz;
29, Indonesia 220v 50hz;
30, Iran 220 50hz;
31, Iraq 220v 50hz;
32, Ireland 230v 50hz
33, Israel 230v 50hz
34, Italy 230v 50hz;
35, Jamaica 110v 50hz;
36, Japan 100v 50/60hz;
37, Korea 220v 60hz
38, Kuwait 240v 50hz;
39, Lebanon 110v 50hz;
40, Libya 127/230v 50hz;
41, Luxembourg 230v 50hz;
42, Malaysia 240v 50hz;
43, Mauritius 230v 50hz;
44, Mexico 127v 60hz;
45, Monaco 220v 50hz;
46, Morocco 220v 50hz;
47, Netherlands 230v 50hz;
48, New Zealand 230v 50hz;
49, Nicaragua 120v 60hz;
50, Norway 230v 50hz;
51, Panama 110/120v 60hz;
52, Peru 220v 60hz;
53, Philippines 110/115v 60hz;
54, Poland 220v 50hz;
55, Romania 220v 50hz;
56, Russia 220v 50hz;
57, Saudi Arabia 127v 60hz;
58, Singapore 230v 50hz;
59, Spain 230v 50hz;
60, South Africa 220-250v 50hz;
61, Surinam 110/115v 60hz;
62, Sweden 230v 50hz;
63, Switzerland 230v 50hz;
64, Taiwan 110/220v 60hz;
65 Thailand 220v 50hz;
66, Turkey 220v 50hz;
67, United Kingdom 240v 50hz
68, USA 120v 60hz;
69, Venezuela 120v 60hz;
70, Vietnam 120/220v 50hz;